Tropical Splendor Gala Celebrating the Grand Reopening of the Inasmuch Foundation Crystal Bridge Conservatory
Thursday, October 13, 6-9pm
Join us for a special evening where guests will be the first to see the renovated space that has taken over a year of work. Experience a new waterfall feature, new plant collections with interpretive signage and exhibits, overlook terraces, a reflecting pool and other water features. A new Discovery Room, classroom and a gift shop will also be open for guests to preview.
The evening will begin with cocktail hour and tours of the Conservatory followed by a fabulous dinner on the Devon Great Lawn with top OKC chefs.
Before dinner begins, we will honor the Inasmuch Foundation with our Crystal Orchid Award for 2022. Inasmuch Foundation's lead campaign gift was instrumental in achieving a fully renovated Conservatory that will serve the next generation of visitors. Bob Ross, Chairman and Chief Executive Officer, will accept on behalf of the Foundation. Also being recognized for the support of Larry Nichols and James Tolbert for the work they have done to transform the Gardens over the last decade.
The gala will also help raise significant funds to help support Myriad Gardens Foundation operating expenses to ensure the Gardens remain beautiful with educational and cultural programs for all in our community to enjoy. Sponsorships are available. Single tickets are $150. For more information contact Shelby Scott, sscott@myriadgardens.org or (405) 445-7080 ext. 1100 or purchase online here.
Presenting Sponsor
Heartland
Grand Palm Sponsor
Gardner Tanenbaum Holdings
Bird of Paradise Sponsors
Devon Energy, Jean & David McLaughlin, Lingo Construction, Robert H. Meinders, The Jean I. Everest Foundation, Mercedes-Benz, Midtown Renaissance, Larry and Polly Nichols
Orchid Sponsors
James Tolbert, Total Environment
Calla Lily Sponsors
Jil and Tony Boghetich, First National Bank
Agave Sponsors
American Fidelity, Downtown OKC, Kent Phillips, Hogan Taylor LLP, Factor 110 Events, Quail Creek Bank, Cathy Conner and Dr. Stephen Conner
Ginger Sponsors
Bank of Oklahoma, Bruce Barkozy, Gerry and Ken Bonds, Sue and John Francis, Maureen Heernan, Millie and Johnson Hightower, Don Karchmer, Beth and Steve Kerr, Michael Laird, Delores Musallam, Joe Rocket, Meg Salyer, Marsha and Carson See, Dr. Gregory L. Skuta, Michael Thagard, Karen and Warren Filley, OG+E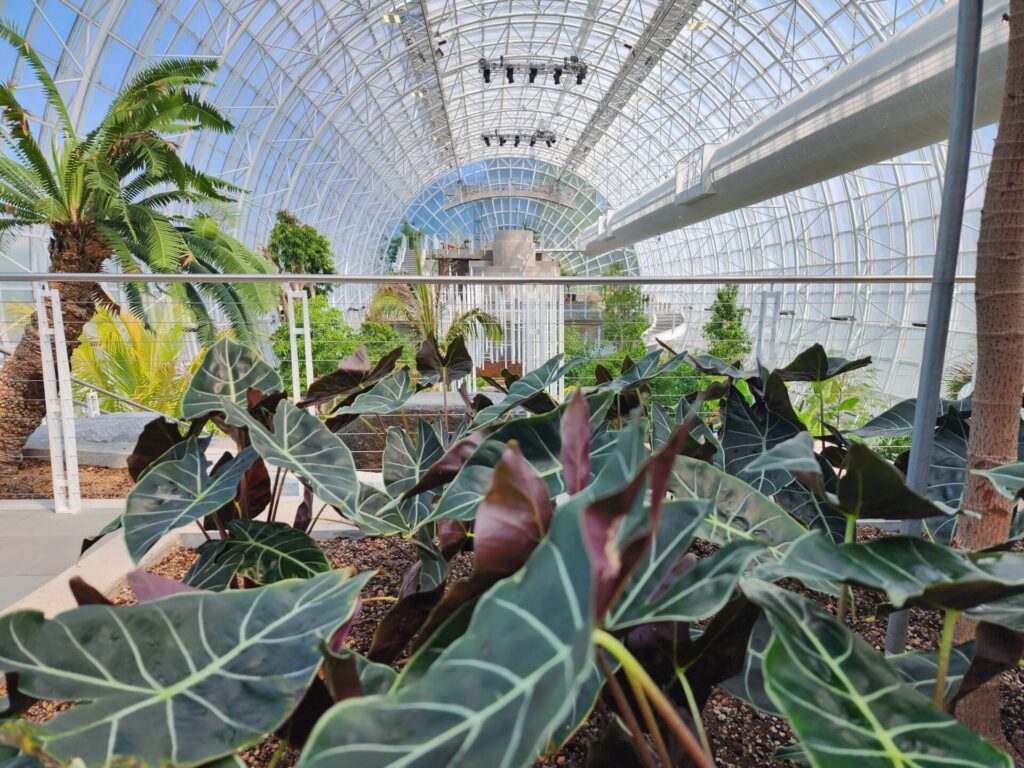 Celebrate the reopening of the Inasmuch Foundation Crystal Bridge Conservatory at Myriad Botanical Gardens November 18-20
Visitors will soon get to experience the centerpiece attraction of the Myriad Botanical Gardens in a new way when the Inasmuch Foundation Crystal Bridge Conservatory reopens this fall after extensive renovations.
As they go through the beautifully redesigned and accessible space, visitors will enjoy new features like a reflecting pool, new plant collections, overlook terraces and a new waterfall feature. They'll also find it easier to learn about the tropical plants in the conservatory – the space will include interpretative signage and exhibits and educational programming. A new Myriad Gift Shop will offer merchandise that reflects the Gardens' mission of horticultural education and conservation. This tropical conservatory opened in 1988 and has always been a popular destination for the Gardens. When it reopens, visitors will get to rediscover its beauty.
Opening weekend is Nov. 18 through 20 with special hours from 9 a.m. to 8 p.m. on Friday and Saturday and 11 a.m. to 5 p.m. on Sunday. For details, visit myriadgardens.org.